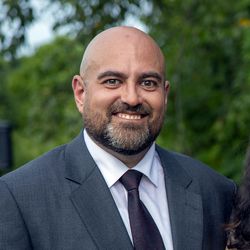 Contact:
gabriel.mihalache@stonybrook.edu
S633, Social & Behavioral Sciences, Stony Brook, NY 11794
My name is Gabriel, I study topics in International Macroeconomics. My work explores the consequences of sovereign default risk for the maturity structure of public debt, sectoral reallocation, capital accumulation, and fiscal-monetary interactions. I am an Assistant Professor of Economics at Stony Brook University, since 2018. I received my PhD in 2016, from the University of Rochester. I am Romanian and this is how you pronounce my last name.
News. December 2021: Cristina, Yan, and I revised our "COVID-19 Vaccination and Financial Frictions," manuscript, which was presented at the 2021 IMF Jacques Polak Annual Research Conference. We study the impact of financial frictions and international assistance programs on vaccination campaigns in emerging markets. Comments and suggestions are greatly appreciated!
Working Papers
Manuscripts with Decision
"Deadly Debt Crises: COVID-19 in Emerging Markets," Apr 2021
with Cristina Arellano and Yan Bai, revise & resubmit Review of Economic Studies

"Bargaining over Taxes and Entitlements," Dec 2020
with Marina Azzimonti and Laura Karpuska, revise & resubmit International Economic Review
"Monetary Policy and Sovereign Risk in Emerging Economies (NK-Default)," Jan 2020
with Cristina Arellano and Yan Bai, reject & resubmit American Economic Review

In Progress…
Publications
"Sovereign Default Resolution Through Maturity Extension,"
Journal of International Economics, Volume 125C, 2020, ISSN 0022-1996
"Default Risk, Sectoral Reallocation, and Persistent Recessions,"
with Cristina Arellano and Yan Bai
Journal of International Economics, Volume 112, 2018, ISSN 0022-1996
"The Payment Schedule of Sovereign Debt,"
with Yan Bai and Seon Tae Kim
Economics Letters, Volume 161, 2017, ISSN 0165-1765

Resources
Teaching
All materials, including syllabi and recordings, are distributed via Blackboard. Class-specific office hours are listed in the syllabus. For other appointments, please email. Students, please use gabriel.mihalache@stonybrook.edu and include the class name in the subject. Thank you!
Spring 2022
ECO 325 International Trade
ECO 386 International Finance
Previously
ECO 305 Intermediate Macroeconomic Theory
ECO 325 International Economics (pre-2020)
ECO 325 International Trade
ECO 386 International Finance
ECO 531 Introduction to Computational Methods in Economics (MA)
ECO 610 Advanced Macroeconomic Theory (PhD)
ECO 613 Computational Macroeconomics (PhD)
Are you considering asking me to write a reference letter in support fo your grad school applications? Please read carefully the information available here, to help me help you. Thank you!
Door Decorations
It is traditional for academics to decorate their office doors with snippets from articles, media, social commentary, quotes, or cartoons. These are the current content on my door, as of June 2021: